kimiadmin
October 29, 2019
CREATING A FLORAL PUMPKIN FOR HALLOWEEN
> Floral
Autumn is a wonderful month for floristry, although it does require some creative thinking as the flower season is coming to an end. That said, dahlias, roses, chrysanthemums are all blooming and there is an abundance of richly textured foliage available to forage from the hedgerows.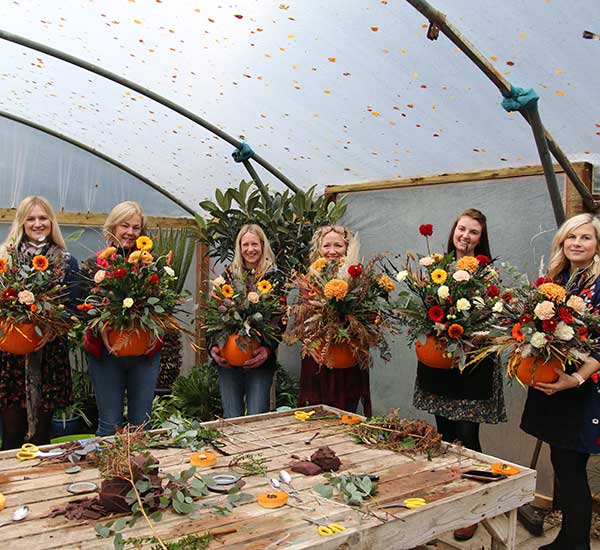 A fantastic way to display these last garden goodies before the winter truly sets in, and one which is in keeping with the season, is to arrange them in a pumpkin or squash. Last weekend, I ran a workshop at Urban Jungle in Norfolk showing this group of lovely ladies how to do just that.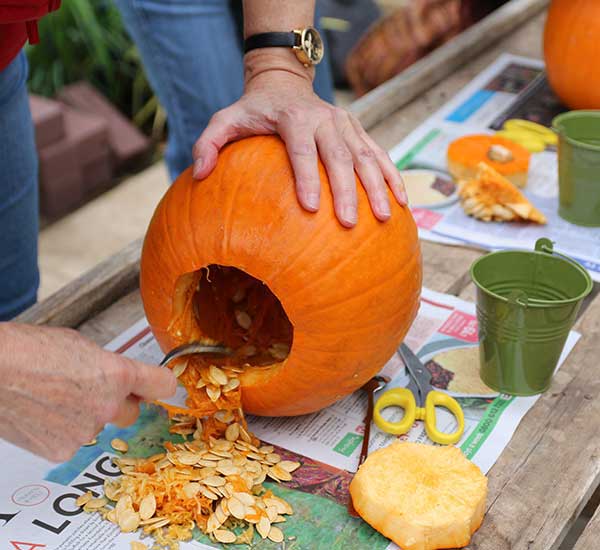 The technique to creating one of these bold floral centrepieces for your home starts in the same way as traditional pumpkin carving. Using a sharp knife, cut a circle around the stalk to create a hole in the top, and then use a spoon to remove all of the seeds and pith (the pumpkins I chose for this workshop were locally grown at a Norfolk farm, and the flesh is perfect for use in a variety of recipes).
To hold the flowers in place, I use a small metal tin inserted into the hole in the top of the pumpkin which can be filled with one of 2 options, both of which are more eco-friendly than traditional floral foam. Option one is the new Oasis biodegradable floral foam, which is somewhat better than the original foam, option two is to scrunch up chicken wire, and stuff it with moss. Place either one of these into the tin, and you are ready to add blooms!
This is where the fun starts! Begin by adding a variety of greens to build a base for the flowers. Starting from the middle and working outward will help you maintain the proportions and overall size of the display. If you have been foraging during autumn, some excellent options which you can gather for free include bracken, pampas grass, thistles, bunny tail grass, a variety of dried seed heads and more. For fresh cut flowers, both dahlias and chrysanthemums work well as they are so hardy and will look fresh for many days. Both of these varieties are in season in the UK throughout October, so ask your neighbour nicely and see if you can steal a few from their garden! If you want to add more exotic feel, eucalyptus is a good choice as not only does it smell delicious but it lasts too.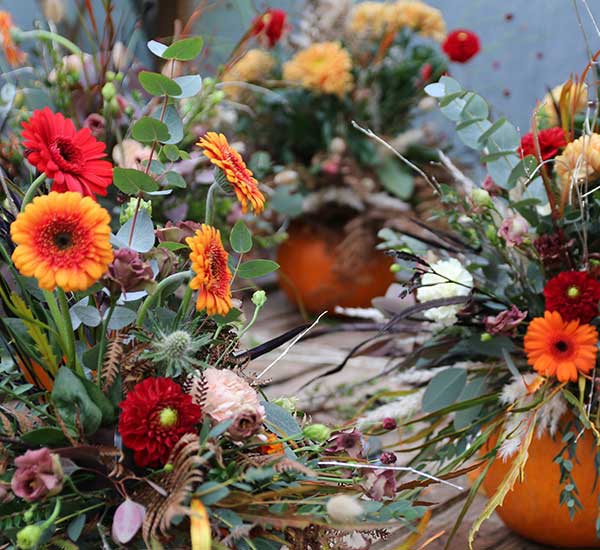 With regular watering, your floral pumpkin should last around 10 days – it is likely the pumpkin will start to wilt before the flowers do! If you would rather create a more long-lasting display, use a selection of dried flowers which will last indefinitely (only the pumpkin will need replacing!).
In these pictures I have chosen a classic orange pumpkin, but any size or colour of squash will work just as well, and with the popularity of these gourds on the increase, it's a great opportunity to test your creativity!
Happy Halloween!
K//