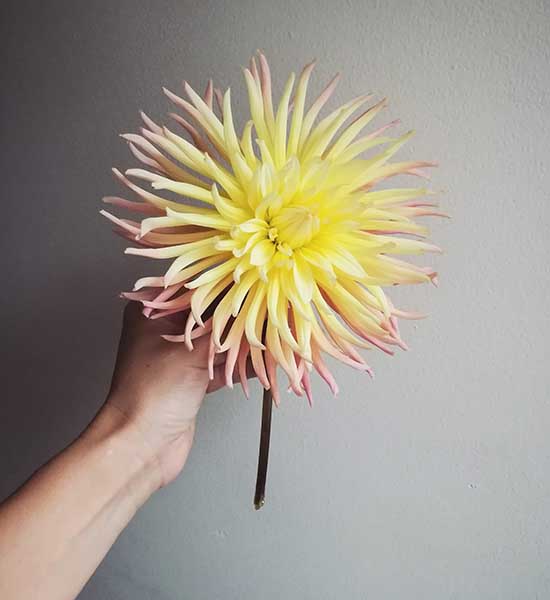 QUICK FIRE FLOWER FACTS: Dahlias
All about…
DAHLIAS
There's just nothing more delicious than a dahlia. Period. These floral stunners come in a uniquely dazzling array of shapes, colours and levels of bushiness. In fact, the variety with the genus is so astounding that most plant-loving scientists break down the dahlia family into over ten different groups including: single-flowered dahlias, cactus dahlias, waterlily dahlias, pompom dahlias, anemone-flowered dahlias and so much more. There are 42 recognised species of dahlia but (brace yourself for science), the genetic makeup of these plants means they are extremely randy and hybridise very easily. The fact that different subspecies so easily cross-pollinate means that when it comes to sheer diversity, dahlias always take the cake. 
I'm not allowed to play favourites, but dahlias are pretty bloody special…
Plant Family
Asteraceae Asteroideae
Popular Varieties
Arabian Night, Bishop of Llandaff, Rothesay Reveller, Black Narcissus, Crichton Honey, Cafe au Lait
Origins of the Dahlia
Blooming in such a spicy array of tropical tones, it will probably be no surprise to you that these beauties hail from the steamy forests of Mexico and Central America. First described in accounts written by Spanish conquistadors as early as 1525, these flowers were almost immediately brought back to Europe for domestication. 
Arranging home grown dahlias in my studio
Beautiful pink dahlias with a pink backdrop
UK Blooming Season
Dahlias have a lengthy blooming season in the UK from the height of summer until late into autumn. Most aren't huge fans of frost though and will begin to die off as the temperatures really drop later in the year. 
Dahlias in the Language of Flowers
Dahlias are the official birth flower for August and traditionally represent inner strength due to their relative hardiness. During the Victorian era, the flowers came to symbolise a lasting bond or lifelong commitment between two people making them perfect for weddings!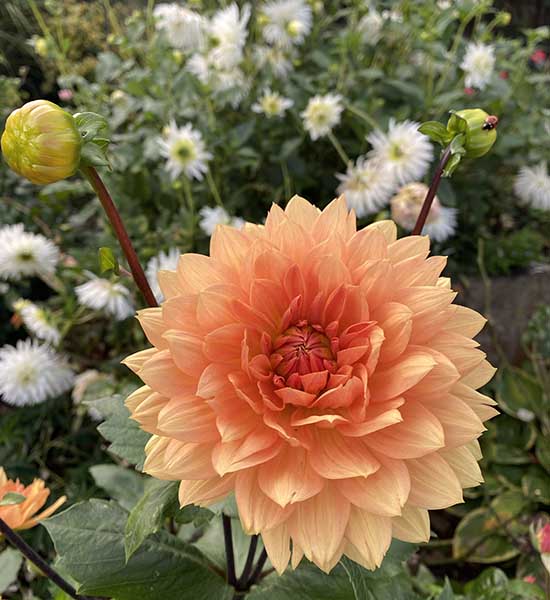 Dahlia Colours 
With the notable exception of a true blue, dahlias basically cover all your bases in terms of colour. Popular tones are the deep crimson reds, splashes of magenta or the rich apricot and coral colours of some of the pompom varieties. It sounds like an exaggeration, but there's pretty much a dahlia for all colour palettes. 
Did You Know…?
Dahlias were declared the national flower of Mexico in 1963. This isn't just because that's their native homeland though. In fact, dahlias play a major role in a lot of Mexico's indigenous history. The Aztecs used the tubers of dahlia plants as a food crop, as a treatment for epilepsy, and also used the flowers as offerings during religious ceremonies; a practice that survives today through festivals like Day of the Dead, which is heavily influenced by the fusion of Spanish Catholic and ancient indigenous traditions.
---