FLOWER & PLANT SUBSCRIPTIONS
These flower and plant subscriptions are an ideal way to keep a fresh supply of botanicals in your home. Read more below on our weekly / bi-weekly options for hand delivered fresh flowers and our popular monthly cacti and succulent plant subscription.
PLANT SUBSCRIPTION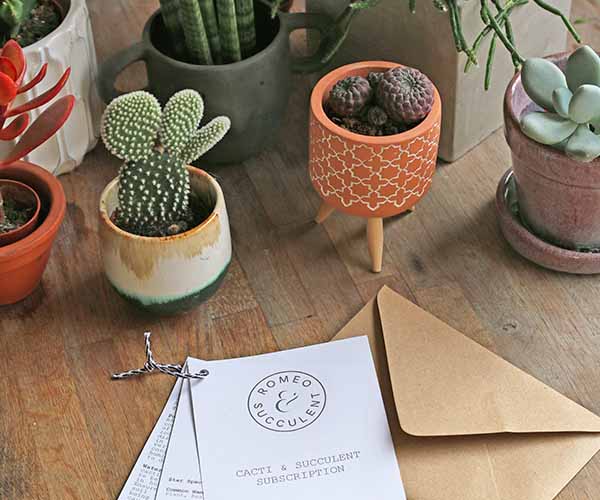 If you already have way too many plants, why not sign up for a monthly plant delivery and have EVEN MORE! This popular plant subscription service has been featured in Stylist, The Times, The Telegraph, You Magazine and House Beautiful. Once a month you will receive a unique cacti or succulent in a vessel for you to keep. This is the ideal subscription for those who love plants and want to keep their collection fresh and exciting. Alternatively you could use sign up a friend or family member using the gift subscription option which is available in 3 or 6 month blocks. I send out unusual, quirky and healthy cacti and succulents, in unique items such as pots, planters and other decorative objects. The subscription also comes with a care/info card and is wrapped in eco-friendly packaging.
£20 per month including free UK delivery
FLOWER SUBSCRIPTION
Sign up for a weekly delivery of fresh flowers hand delivered to your door, including hire of a different vase or pot. Every week, we will hand deliver fresh flowers to your door at a set time. We can arrange the flowers for you and supply all the aftercare advice you need. If you aren't going to be in we will leave your flowers in a specified safe place.
Please note that this service is currently only available within a 15 mile radius of Norwich. If you live further afield, we can provide the service with a small fee to cover travel costs.
CURRENTLY FULLY SUBSCRIBED