Looking for a bouquet of fresh flowers for that special someone, celebration or other occasion? It's easy, just follow the simple ordering process below…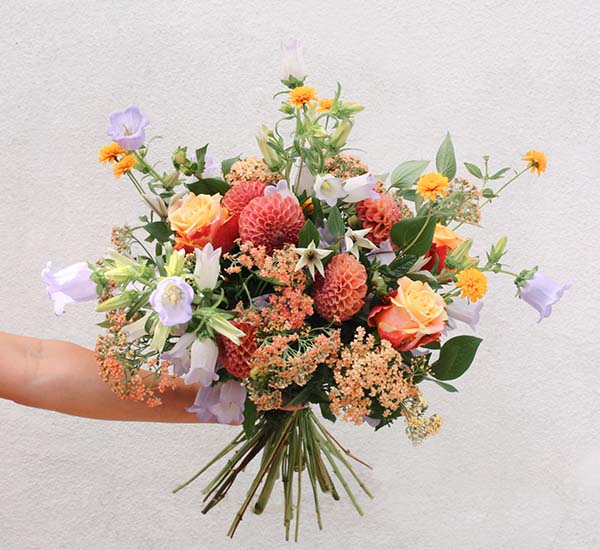 1. ORDERING
You can order fresh flowers by calling me on 07397 897 944 or drop an email to hello@romeoandsucculent.co.uk and let me know what you require, when/where you want it delivered and who it's for (along with a message to be written on the delivery card). I deliver between Monday – Saturday 6am – 8pm, Sundays on request.
2. PRICING
I make it super easy by charging a flat amount for different sizes of bouquets. I choose fresh flowers on the day, selecting the best blooms and what is in season. You can let me run wild with my creativity (all bouquets are completely original and unique) or you can provide some guidelines (i.e. mostly pink in colour, must contain roses, needs to smell delicious etc). All include deluxe wrapping and a ribbon.
Tiny: £25
Small: £30
Medium: £45
Large: £65
Enormous: £90
3. DELIVERY
All bouquets are hand delivered. The cost of delivery is FREE within 5 miles of Norwich. Any deliveries beyond this are charged as follows;
Within 10 miles of Norwich – £2.00
Within 15 miles of Norwich – £3.00
Within 20 miles of Norwich – £4.00
Within 30 miles of Norwich – £6.00
Within 40 miles of Norwich – £10.00
Anything further afield we can organise a special delivery – please just let us know!
4. SUSTAINABILITY
I am trying my very hardest to be as environmentally friendly as possible, therefore I do not wrap flowers in plastic water bubbles, instead I use a selection of recycled cardboard boxes, acid-free tissue paper, glass vases and kraft paper. I also include a message card made of recycled paper.