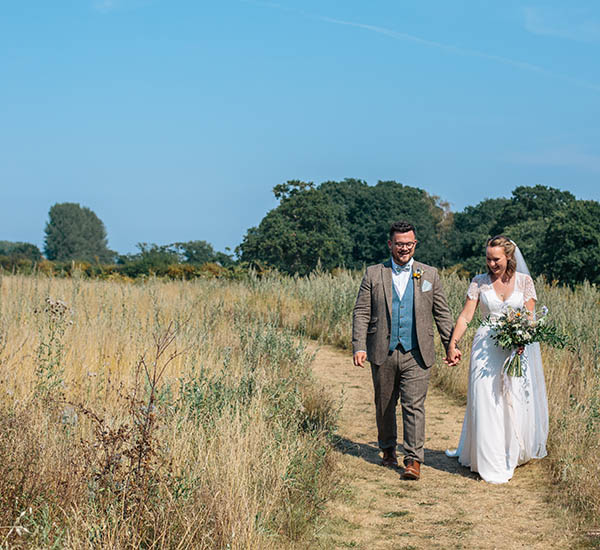 A HEATWAVE WEDDING AT HUSH // M & R
Despite the summer of 202o being somewhat of a washout for weddings in terms of COVID-19 causing havoc, in mid-August, M & R managed to wed on one of the hottest days of the year. 
---
After being postponed from earlier in the year, it was with baited breath that I awaited confirmation the wedding would be able to go ahead under the new restrictions, and luckily the outcome was good! The new date could not have been a better decision – clear blue skies and scorching hot sun shone down on Hush, the venue of choice.
Cutting flowers in the garden in prep for the wedding
The wild flower style bridal bouquet
This rather secretive Norfolk wedding venue is based entirely outdoors, with a ceremony area under a canopy of trees and a pretty meadow surrounded by fields. In mid-August the place looked fantastic, with wild flowers swaying in the breeze and crops of gold providing a perfect photo backdrop. It has on-site accommodation in the form of a beautiful mediterranean-esque villa, but otherwise, you are at play with the elements.
A few blooms to brighten the ceremony table
Taking a walk in the woods as newlyweds. Photo Credit: Katherine Mager Photography
Come rain or shine, the ceremony area is set in the glade of the woodland – and on this particular day it was ideal. The trees provided shade for the guests and created romanic dappled light across the whole area. It would be very easy to forgot that this stunning venue is only a few minutes away from the A47! I had a fantastic time covering the simple hut at the 'altar' with fresh, seasonal flowers and foliage (a few bits picked from the woodland itself to draw it all together) and an elegant white drape.
With the wedding being at such an ideal time for British grown flowers, I was able to use many seasonal blooms I had growing in my cut flower patch, including Japanese anemone, white buddleja, rudbeckia, limonium and bunnytail grass (my first year of growing this grass!)  all of which were used to create a wild flower bouquet style. The bridal bouquet was about as summery as you could get, and the buttonholes to match also featured a few dried pieces.
M & R chose corsages for the bridesmaids . Photo Credit: Katherine Mager Photography
A close up of the bridal bouquet featuring plenty of British grown flowers from my growing garden. Photo Credit: Katherine Mager Photography
M & R opted for an open sided marquee to host their guests (thank god they did given the heat of the day) – cut down to just a few close friends and family due to the coronavirus wedding rules – decorated with buntings and flowers to give the feeling of a small and intimate festival. It looked bloody brilliant! Here I was able to use a few more brightly coloured flowers to make the reception area as welcoming and vibrant as possible, whilst still bringing the wild flower wedding theme to life.



During set up and delivery, I have to admit I was nervous about the heat as flowers turn into diva's when the temperature rises and can wilt and die very quickly. With my phone telling me that it was a sweaty 32C when I dropped of the bridal flowers, I was keen to leave setting up the venue to the very last minute to give them the best chance of surviving the day.
Luckily, the flowers held out and M & R had a wonderful wedding day which is clearly reflected in these heartwarming images.
If you are looking for floral styling at your wedding, please do take a look at my weddings page for more info.
SUPPLIERS: 
Floral Styling: Romeo & Succulent 
Venue: Hush Venues
Photographer: Katherine Mager Photography