kimiadmin
September 24, 2019
LONDON FASHION WEEK 2019: THE ETHEREAL WOODLAND
> Events
Last week I had the pleasure of creating a floral archway for none other than London Fashion Week. Although the majority of my work involves weddings and workshops, I jump at the chance to work on something completely unusual or unique, and this opportunity was an absolute banger!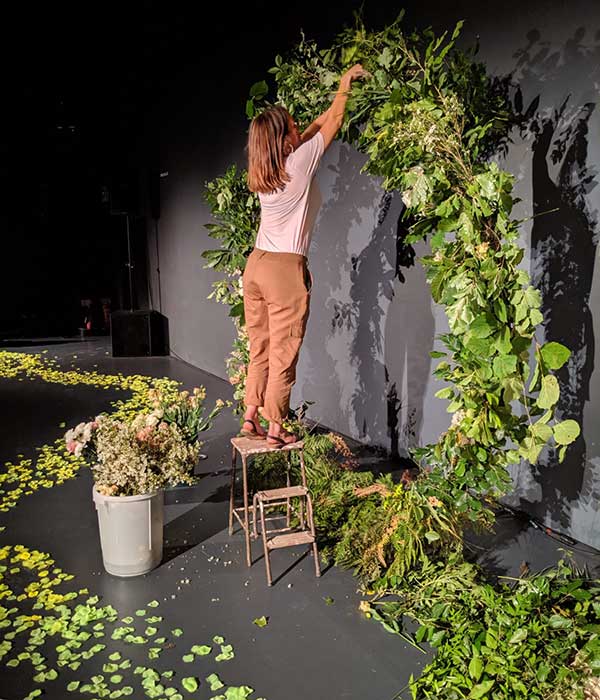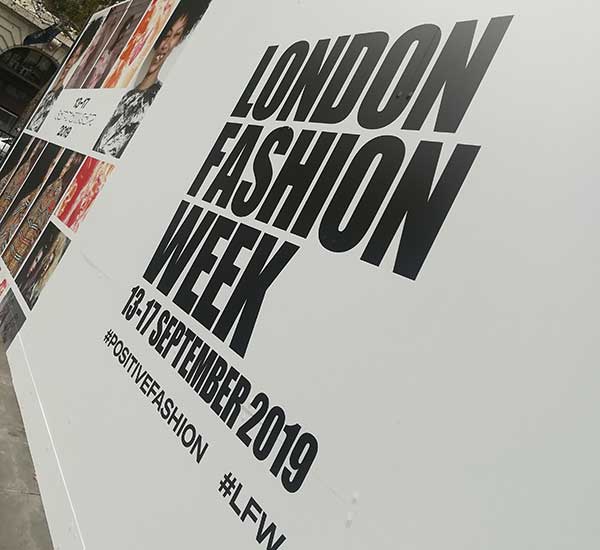 Poster Girl, a brand new British Fashion Label, were looking to create a whimsical woodland themed catwalk, with the centrepiece being an archway adorned in pale blooms and 'English garden' style foliage. I am a proper nature geek, so this style was very much up my street. I used a selection of blooms and greenery for this project, some cut from my own garden or supplied by local growers, to cover the large archway. I added in dried flowers for texture and colour, with the aim of creating a 'bringing the outside in' style.
Flowers I selected for this included garden roses, delphinium, astilbe, dahlia and carnations in pale pinks, creams and white. As I am trying to keep my business as eco-friendly and sustainable as possible, I used no floral foam whilst creating the arch (or 'moon gate' as they are often referred to).
Erecting the archway had to be completed in a rather stressful 2 hour time slot, which included driving the van in central London to drop the kit off (London Fashion Week takes place on The Strand), carrying buckets of flowers through a very busy studio and piecing together the metal arms of the arch before even making a start on the floral styling element. However, much sweating, swearing and dropping of scissors later, it was compete and the models began to appear for a few 'pre-catwalk' shots.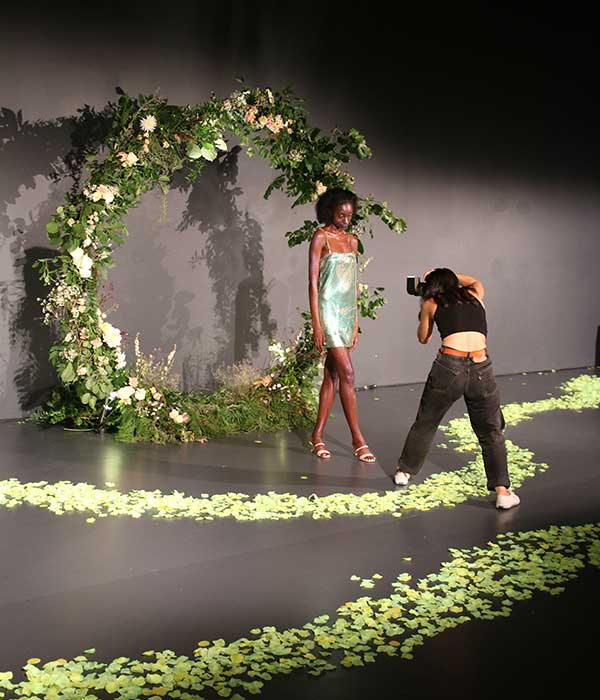 Having passed the photo test, the doors opened to guests and photographers and the full catwalk show began, with beautiful birdsong playing alongside serene music. The models graced the runway in slow motion, wearing a selection of sleek, glamorous outfits in popping colours and cute-yet-sexy cuts. Petal confetti floated around the studio and the atmosphere was electric.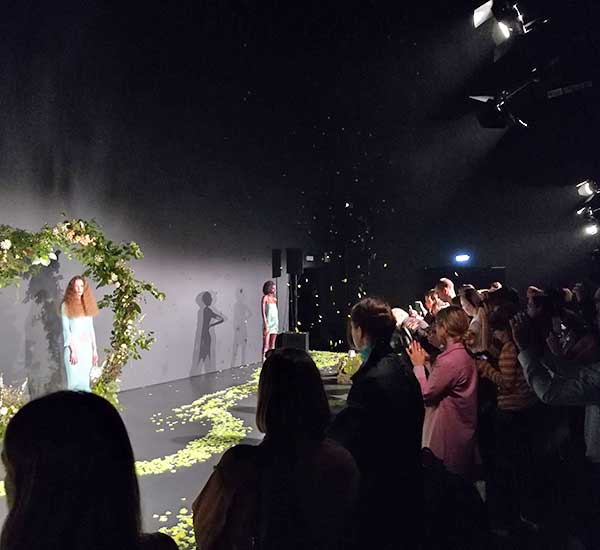 The Spring / Summer 2020 collection from Poster Girl was as chic and appealing as I expected – with a huge following and celebrity admirers including Rita Ora and Dua Lipa, this brand is certainly one to watch.
The final outfits featured metallics, tassles, oversize frills and feathers – some of which I may try to incorporate into my wardrobe, others maybe not! The models were probably at least twice my height, so perhaps I'll stick to jeans and a tee… Either way, the combination of the archway, relaxing music and stunning designs made me feel like I had been transported to an ethereal woodland filled with magic and I was so proud to have been part of it.
If you're looking for floral styling for an event, please contact me HERE.
If you'd like to check out Poster Girl and their fashion collection, you can do so HERE.
Thanks for reading,
K//