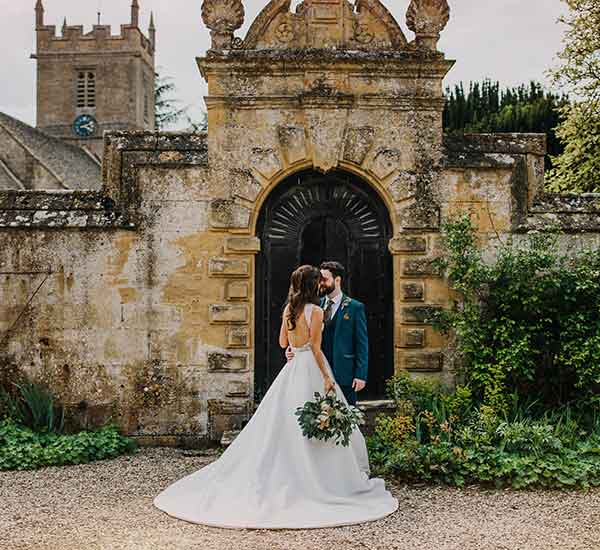 A GRAND COTSWOLDS WEDDING // M & J
A grand wedding in the heart of the Cotswolds with all the bells and whistles is a dream of many brides and grooms. Stanway House is a particularly impressive setting with backdrops of weathered stone walls, exquisite gardens and a church straight out of a fairy tale. For M & J, this was a dream come true in May 2019.
---
Organising wedding flowers can be complicated for many couples, with endless choices of what's in season, which blooms match the colour scheme, the bouquet size etc. However, from long distance it's even harder, and the bride and I spent weeks pinging images back and forth along with Pinterest ideas and Instagram screenshots. Luck for me, J was incredible organised with her own brief that she had her heart set on and a very clear idea of the overall style.
My partner helping hang the hoops in the barn – he's tall, I'm short so this works very well!
Prepping the roses.
The wedding tablescape of a simple foliage garland.
There was one picture in particular that had stolen the brides heart for her bridal bouquet; a big, bold bouquet packed with populus and traditional English roses. And for the decor inside the huge barn at Stanway House, she had her eye on large floral hoops suspended from the ceiling, also featuring roses and lots of foliage. Simple greenery garlands would decorate the long trestle tables, and in keeping with the hoop theme, the bridesmaids were to also have floral hoops in place of traditional bouquets.
The prep for this wedding was huge. As a florist, a large part of planning the flowers for a wedding is the logistics and timing. Checking the flowers will be open enough to look good, but not too far over so they are wilting. Making sure everything can fit in the van without getting damaged during transit. Calculating timings for set up is hard as there is always a unforeseen hold up. Being based in Norwich, and the wedding taking place in the Cotswolds, this was no easy feat. However, with the help of my partner (he's tall which is VERY handy!) we got it sorted.
The wedding itself was simply wonderful – the sun shone brightly and the whole venue looked simply stunning. Naomi of Lush Imaging captured some shots that could easily feature in a magazine! A real, authentically British wedding full of stylish modern touches and a chic simplicity. Congratulations guys!
If you're searching for floral styling for your big day, check out my weddings page for more info.
Classic confetti shot! Photo Credit: Lush Imaging
That dress…. Photo Credit: Lush Imaging
SUPPLIERS:
Floral Styling: Romeo & Succulent 
Venue: Stanway House 
Photographer: Lush Imaging by Naomi
Catering: Orchard Catering
Groom Suit: Marc Darcy