kimiadmin
January 10, 2020
THE ULTIMATE CHRISTMAS WEDDING // F & P
> Wedding
For pure indulgence and classic romance, what could be better than a Christmas wedding? F & P were very much of the mindset 'go big or go home' and they embraced the Christmas theme fully with extravagant decor throughout their venue. Kimberley Hall, with its elegant interiors and sweeping staircase, was the ideal setting for such an event, and in December 2019, it was turned into a winter wonderland.
---
I first chatted with this gorgeous couple (I mean, they literally could both be models) at a wedding fair back in February, and when they described the day they were planning I was thrilled. A huge Christmas wedding at a regal Norfolk stately home – what could be better!? I was then gobsmacked when they said they wanted no fewer than NINE Christmas trees for various rooms, and that was just the start…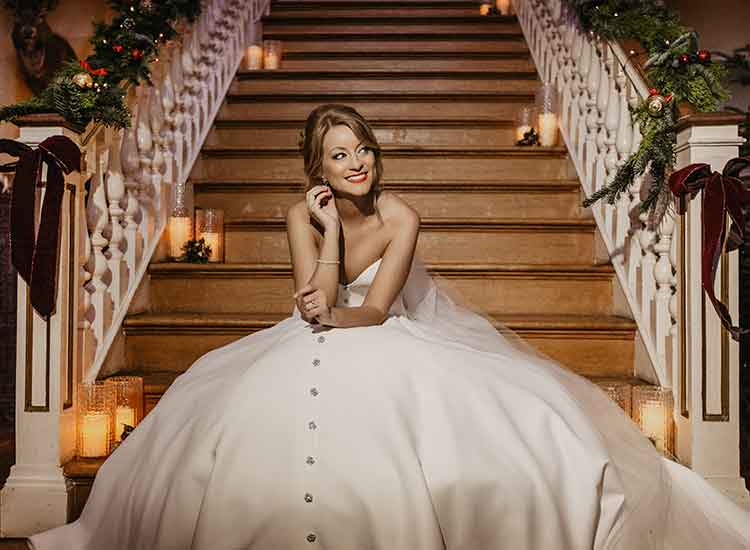 Ideas and inspiration were flowing, with the couple saying they'd love Kimberley Hall to look like the set of the iconic Christmas movie 'Home Alone'. When they went ahead and booked I was so happy, and excited for Christmas even though it was, at the time, early spring.
As the months passed and winter started to creep in, we met at the wedding venue to go through the final details of the day and I soon realised that I would need help for the set up. The entrance hall, ceremony room, reception area and upstairs mezzanine level were so far apart that just getting everything in place would take a fair amount of time – particularly when dealing with Christmas trees of various sizes!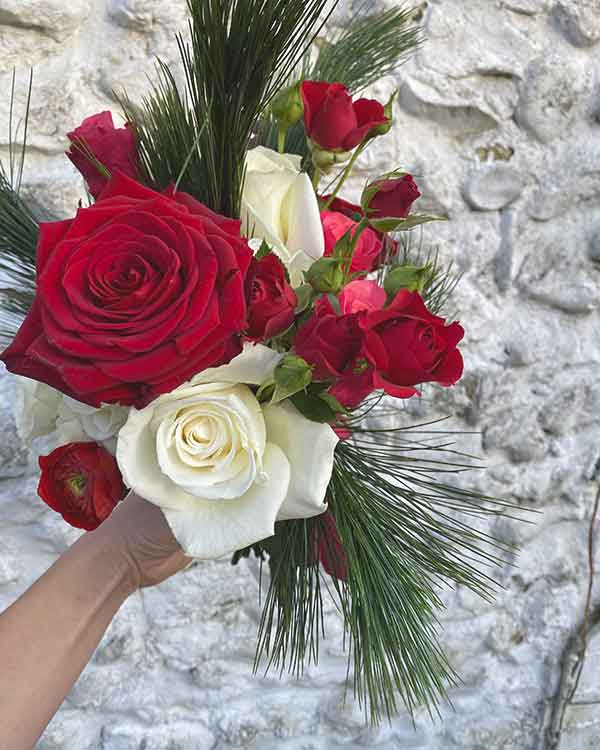 The great thing about working on a winter wedding is there is an abundance of foliage available locally – holly, pine, mistletoe and ivy could all be gathered from the hedgerows, and I visited a local Christmas tree plantation to choose the trees for each room a couple a few weeks before the big day. Walking though the trees and picking out the perfect pines was such a pleasure – they were then freshly cut a couple of days before the wedding, and they smelt wonderful.
The set up, with helping hands from my mum, mother in law to be and partner, wizzed by in a flash of red velvet ribbons, golden baubles and garlands upon garlands of winter foliage. For me I can honestly say the hardest part was getting the lights to sit right on the Christmas trees – a big tangled mess of wire, ugh! However, at the end of an epic 3 day marathon, Kimberley Hall looked absolutely breathtaking.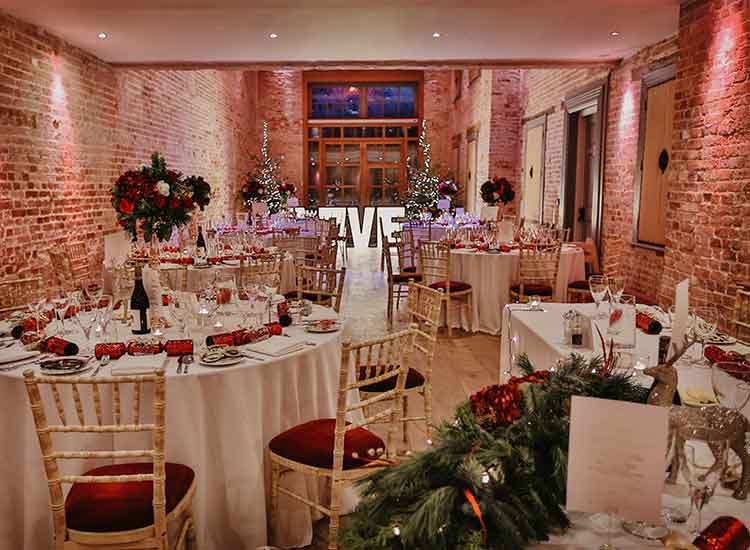 On the day, yet again, the sun shone through enabling the couple to get some fantastic shots during the Christmas wedding day and the bride with her bouquet of red roses, looked radiant. This was by far one of my biggest challenges to date, but also one of the most enjoyable weddings I have ever worked on. Thanks to F & P for letting me do so 🙂
If you're looking for a floral stylist for your big day, check out my weddings page for more info. 
SUPPLIERS 
Floral Design & Christmas Tree/Garland Decor: Romeo & Succulent 
Photographers: October James Photography 
Venue: Kimberley Hall 
Incredible Ginger Bread House 'Cake': Love Wedding Cakes