kimiadmin
February 10, 2020
A BOTANICAL WEDDING LIKE NO OTHER // D & J
> Wedding
When I first met up with this super friendly, ultra quirky couple (and their adorable doggo Moose!) I knew immediately that I would love to work with them on their big day. Anyone who asks for their wedding venue to be made to 'look like Jurassic park' has got to be a winner, right!? Styling a botanical wedding is something I specialise in, as I often include a variety of plants and leaves alongside flowers.
---
Over a delicious breakfast at The Boars in Spooner Row, we chatted not just about the wedding, wedding flowers and styling but also about their jobs, house, how they met, honeymoon plans and more. Having worked in travel before I became a florist, we were off and away on a complete tangent discussing border crossing in Mongolia and the best local food in Peru. Before I knew it, what is normally a 1 hour consultation had turned into almost 3… oops! But it was fantastic to connect so well with these guys who had described their ideal wedding decor to be tropical, modern, colourful and full of botanicals.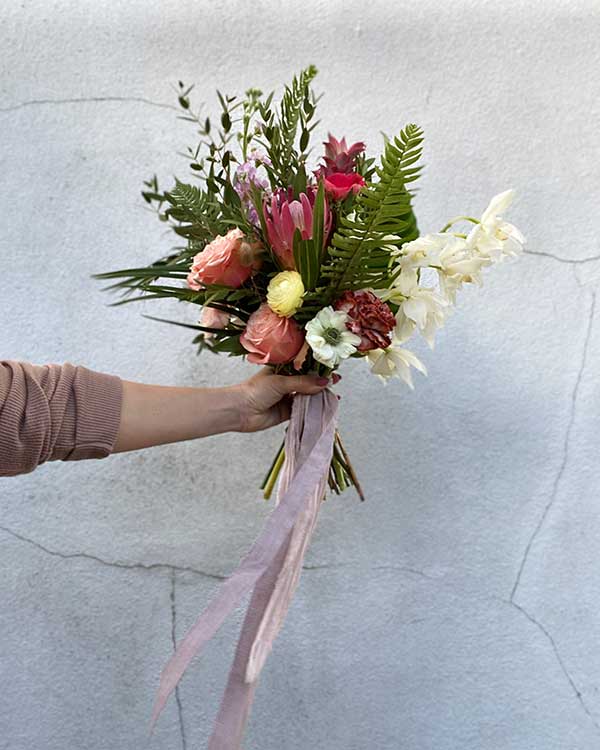 When they booked I was absolutely over the moon and was itching to get started on the planning. They had chosen Voewood as their venue – a very special country house on the north Norfolk coast – and I could picture a botanical wedding working really well in this setting. The fascinating art that adorns the walls and magical gardens fitted in with D & J's personalities perfectly. Immediately I began gathering together ideas, comparing exotic leaf patterns and tropical flower shades, looking into ways to create foliage walls and floral backdrops without harming the delicate interiors of Voewood.
As the day rolled closer, we met at the wedding venue to have a walk around and discuss each room, where the floral decor would be and timings for set up on the day. Both parties were just so relaxed and laid back, it made working with them a joy – and being a dog lover having Moose running around was brilliant.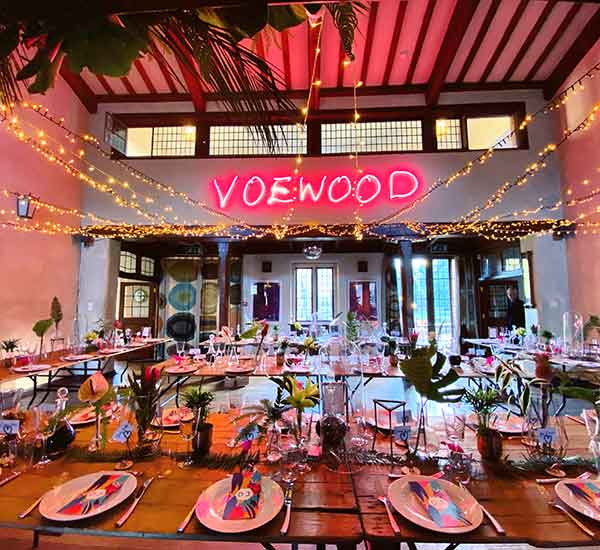 For the majority of the lush, botanical decor I decided to use a mix of leaves from plants such as monstera (cheese plant), palm, calathea (zebrina), banana, philodendron and various ferns. I then added to this some colourful British seasonal blooms such as anemone, dried palm spears, the very in-vogue protea flower, plus more jungle-style plants such an anthurium, pineapple and fishtail palms. A large portion of the cut leaves were used in building a large floral installation around the fireplace and on a wire mesh backdrop which was to be used during the ceremony, plus for low arrangements which would line the ceremony aisle which was to be outside on the patio. Potted palms were also placed throughout Voewood to carry through the botanical wedding theme and tropical vibe.
The long trestle tables were then decorated with geometric centrepieces which D & J had hired from me along with other elements such as glass beakers and tiny bottles hired elsewhere. In these I styled a variety of leaves and flowers of various colours and heights to help create that 'jurassic park' feel without blocking the guests views across the room. Smaller, awesome details such as florescent dinosaurs were added to complete the wedding tablescape. A cute extra that I was asked to provide were small succulent wedding favours which were hung on the back of each guest's chair in the dining room.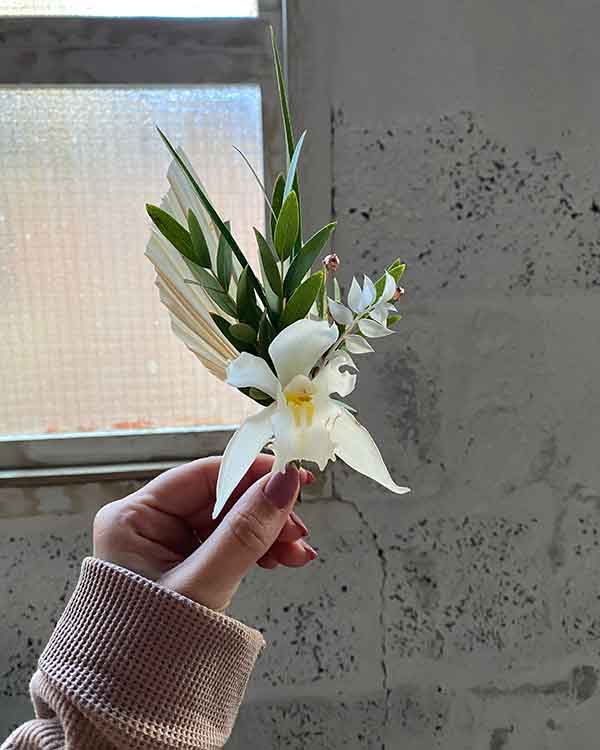 For the bridal bouquet and grooms party buttonholes I chose a mix of bold, oriental blooms such as orchids and protea, and softer flowers with good scent including roses and stocks. Of course plenty of those gorgeous big exotic leaves featured too! The  bride's bouquet was finished with long, linen ribbons in vintage pinks and blush – to match her stunning dress.
The wedding itself turned out to be a fabulous, sunny February day and everything went according to plan which was great for D & J and all their guests. I was so proud to be part of this completely unique, colourful and full-of-personality wedding, and hope to work again on a botanical wedding in the future.
Looking for a quote for floral styling at your wedding? Check out my weddings page for more info.
SUPPLIERS:
Plant & Floral Styling: Romeo & Succulent
Magnificent Venue: Voewood
Kick-ass Photography: Parrot & Pineapple
Gorgeous Gown: The Couture Company
Stylish Stationary: Poppet & Moose 
Yumtastic Food: The Pizza Project 
Adorable Wedding Dog Sitting: Oh Bella Wedding Day Dogs