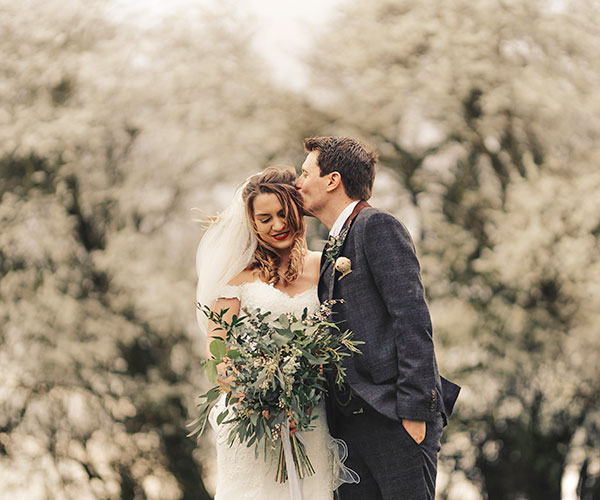 NO FLOWERS NO PROBLEM! A FOLIAGE-ONLY WEDDING // C & E
The thought of having no flowers at a wedding may seem strange to some, but with foliage-only botanicals becoming ever more popular at events across the UK, it's not as unusual as you may think. C & E were very relaxed about the botanical styling for their special day, which was to be based on a foliage-only wedding and reflecting their love of elegant simplicity.
---
Over a pint of ale in The Fox at Hevingham, I met C & E – a young couple, who were so friendly and chatty, I could've sat with them all evening and had much more than just the one drink. They had struggled with deciding on what floral decor they wanted for their wedding, with the bride not being overly bothered about loads of flowers but also knowing she definitely wanted to hire the geometric centre pieces I have in my collection.
After discussing the options, and taking into account their winter wedding was to be in mid-February, it was clear that a foliage-only wedding was the way forward (especially as their tables names were to be Lord of the Rings themed!). They were both keen to have a modern, fresh look with relaxed styling and a touch of elegance.
With this in mind, I used a selection of foliage cut fresh from my garden and the surrounding countryside, with added eucalyptus, plus some dried flowers to add texture and eryngium (aka. sea holly). The deep greens were offset by the blue-toned leaves of the eucalyptus which created a modern floral styling suited to the laid-back feel of this young couple's wedding.
Floral decor on the ceremony table at Southwood Hall, a barn venue in Norfolk.
Wild buttonholes for the groom and his party.
Working on a botanical wedding was brilliant, I often feel that foliage and the many shapes and forms that leaves and stems come in are often overlooked or taken for granted, but this winter wedding proved that no flowers certainly does not mean no impact! As a wedding florist, it's all to easy to become blinded by colourful flowers, and yet often the simplest of foliage can really stand out.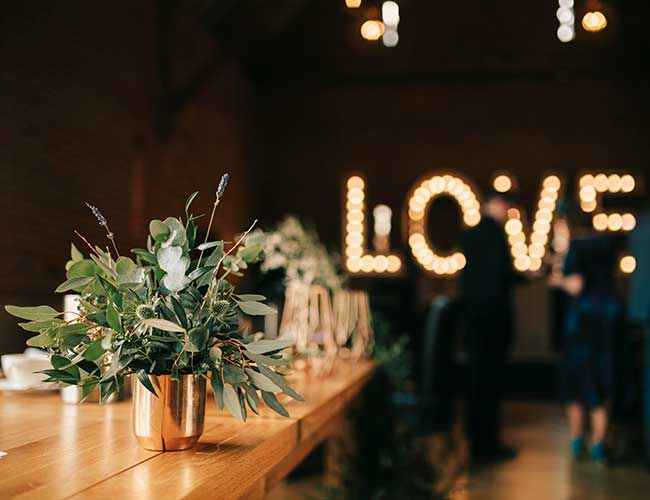 Pairing the wedding flowers with copper pots and geometric centrepieces was a match made in heaven, move over glass jars and wood slices, there's a new barn wedding style coming! I doubt the decor would have had the same impact in any other vessel. Keeping the colour scheme so neutral ensured that the elegant styling the couple desired was easily achieved, and the brides bold red lip really popped!
The versatility of foliage at a wedding, especially a barn wedding, should never be underestimated, and with such limited options for seasonal flowers over winter in the UK, it's certainly worth some consideration for those seeking modern wedding florals. C + E have effortlessly shown how this can be achieved, and I hope it has inspired you as the reader!
If you are looking for floral styling at your wedding, please do take a look at my weddings page for more info.
SUPPLIERS:
Floral Styling: Romeo & Succulent
Venue: Southwood Hall
Photographer: D Blake Photography